As past luxury timepiece columns have revealed time and again, rare, collectible, more-often-than-not Swiss watches go under the hammer all the time in noted auction houses and on sale in notable stores. Staggering rates for vintage pieces are the norm; we barely raise an eyebrow when heirloom pieces are up for grabs after "death, divorce, and debt" (as Ted Loos so succinctly wrote in last year's column about the auction market's primary suppliers). Well, when it's not the "three Ds," nor an ancient relic from the alpine lands of horological excellence, we thought we should take a closer look at this lot.
Lads and ladies, Wristcheck has entered the chat.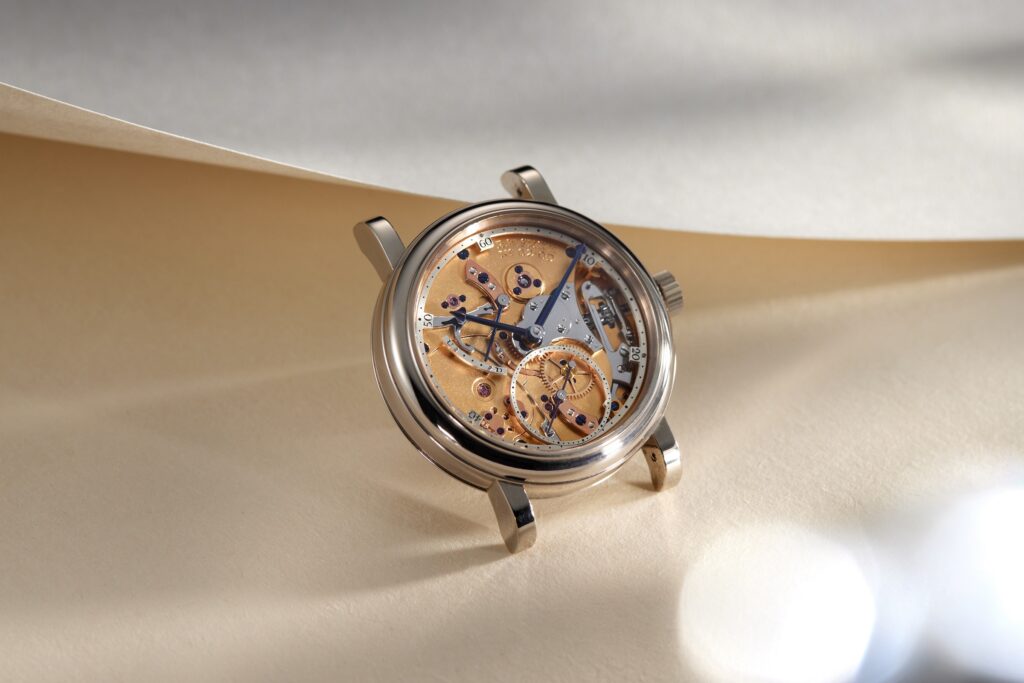 Hong Kong's very own global watch platform—run with great precision by the young guns Austen Chu and Sean Wong—is offering a "once-in-a-lifetime opportunity" for watch collectors worldwide to bid on a collector's gem: a rare iteration of the Roger W. Smith Series 2 Open Dial Watch, housed in a prototype 40 mm white-gold case. It's a masterpiece by the British watchmaker that's going for HK$8.9 million (US$1.15 million).
"Over the past 100 years or so, obviously, Switzerland has dominated watchmaking. But a lot of the most important complications were invented by British watchmakers because watchmaking kind of originated in the UK," Chu tells Robb Report Hong Kong when we asked why British entities are so rare in the market here.
"Back then, it was primarily based off of pocket watches; then, it eventually shifted to Switzerland. But if you look at British watchmaking versus Swiss watchmaking, there's a lot of differences in the finishing. In British watchmaking, they use frosting on the movements, which is very different to Switzerland, where they normally use côtes de Genève finishing. The aesthetic is also slightly different."
British watchmakers of note include Bremont, Arnold & Son, and George Daniels, but as Chu illuminates, there are others to keep in mind. "Many brands, all at different price points, have emerged from the UK and they have been doing fantastic things—brands such as Christopher Ward, Studio Underd0g, and obviously Roger W. Smith."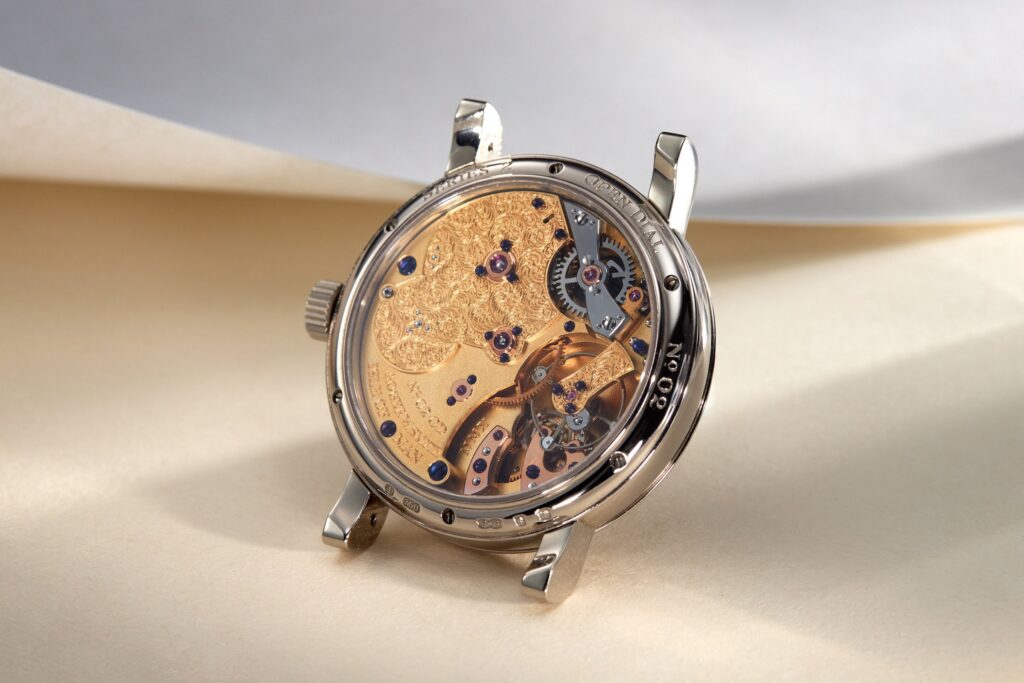 "This Series 2 Open Dial watch in white gold is particularly important to me, being the first of my Open Dial watches to be housed in a 40 mm case," says Roger W. Smith. "Of note is the fact that the watch has the first of my evolutions of the co-axial escapement. This 'Mark 1' escapement represents one of the milestones in my quest to continue improving on George Daniels's original concept. There are only 10 of my Open Dials in existence with this particular escapement, and one of the gratifying aspects of watches, such as this one being made available again, is to have the chance to experience it once again. It brings back many special memories."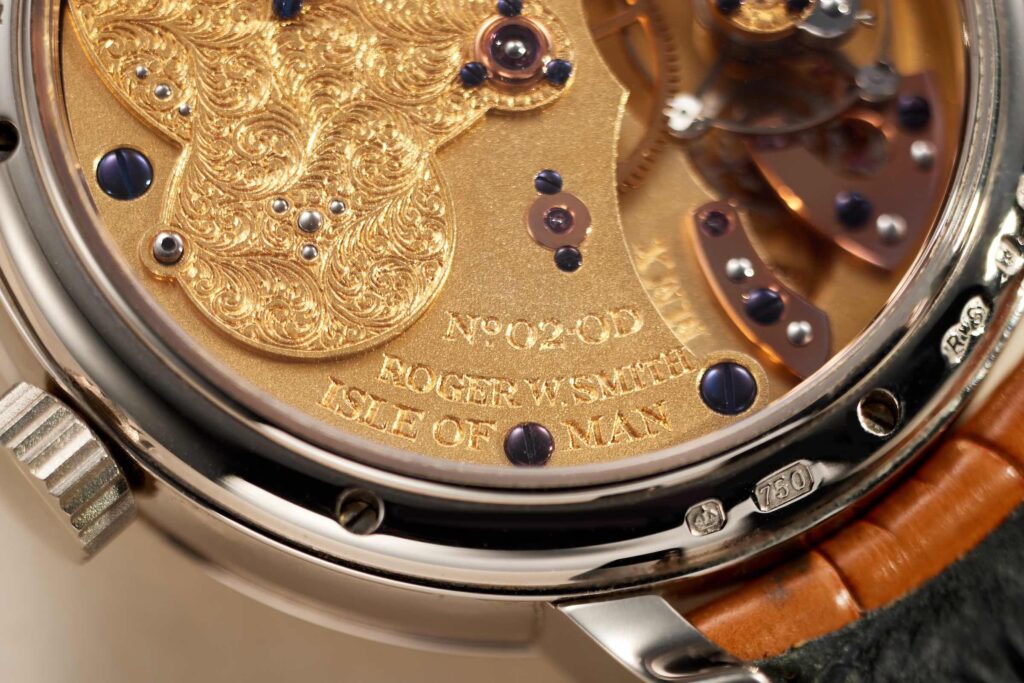 As the meticulously shot images of the watch's skeleton reveal, Smith is known for his exceptional craftsmanship, making his limited-edition timepieces hugely sought after among notable collectors the world over. As the literature on the watch reads, "the timepiece houses a meticulously hand-finished, hand-wound mechanical movement; the largest single-wheel version for the Daniels co-axial escapement with a free-sprung Quadrajust balance, beating at 18,000 vibrations per hour. The first in white gold, one of only two watches featuring its unique style of minute chapter and one of five white gold Open Dials with Mark 1 movements, the 02-OD was delivered in 2010 and continues to hold great important in the annals of horological history."
Conferred with an Order of the British Empire (OBE) in 2018, in recognition of his contributions to the horological industry, Smith is in the high ranks of fellow independent watchmakers of note, names that include the likes of Kari Voutilainen, Romain Gauthier, and Ludovic Ballouard, who create extraordinary timepieces of immense technical prowess bolstered with a great aesthetic appeal.
At HK$8.9 million, this watch seems a steal, as earlier this year, Smith's Pocket Watch Number Two set a world record at a Phillips auction, achieving HK$38.3 million.
Now why would someone choose to willingly part with such a rare object? According to the watch's previous owner, Phillip Pon, who held on to the timepiece for nearly 13 years, he is hoping to entrust it to a fellow collector who will appreciate it as he has. The watch was personally crafted and offered to the aficionado, who had confessed to the British watchmaker at a dinner that he had always wished to procure an original Roger W. Smith watch. Smith himself went on to entrust Pon with a unique dial, handcrafted and handed over in person. With this sale, the tradition lives on.
"I am thrilled to entrust Wristcheck with the sale of my Roger W. Smith Series 2 Open Dial Watch. This watch has always been my grail—and after over a decade of cherishing it, it brings me great joy to share it with another passionate enthusiast who will truly appreciate it for the horological marvel that it is," says Pon, passing on the torch.
Pon is of the belief, as many famed collectors often are, that objects of such great beauty and rarity isn't "owned" by someone, but all are temporary custodians who must, in due course, pass it on. The question now is, whose hands will this unique timepiece fall into?
On sale: HK$HK$8,970,000
Interested parties may enquire from 5–22 September 2023.
All images courtesy of Wristcheck.