Centrostiledesign's latest superyacht concept is straight fire.
Fittingly christened Flame, the 230-footer features sleek, angular lines and a sharp, tapered bow that evokes an arrowhead. In addition, the vessel is equipped with custom solar panels that are arranged in the shape of a flame. The exterior is certainly striking, but the design is about more than aesthetics. The solar panels will be able to generate clean, green energy to power the yacht's hotel load, for instance.
"As well as giving a particular play of light and catching the eye of the most attentive, the panels will absorb the energy needed to keep the boat 'clean', powering the utilities onboard and making itself useful in some stretches of maneuvering and navigation," the Italian studio said in a statement.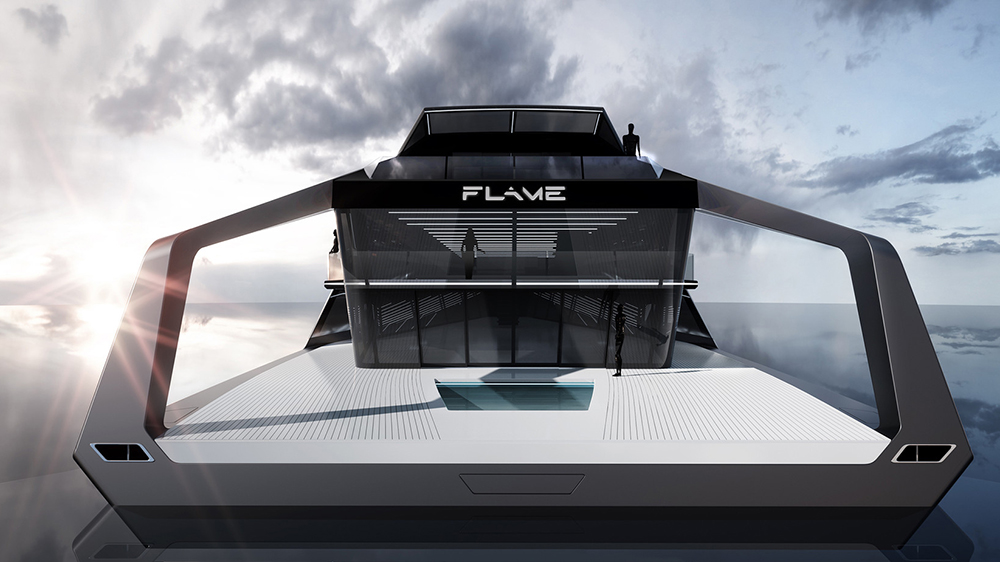 Flame's interior mirrors her clean, modern exterior. The sprawling, open-plan living quarters are spread across multiple levels and have been designed to bring the outdoor world in. Expansive windows run along each side to ensure uninterrupted views and plenty of natural light. Outside, the multi-purpose aft deck can be used for a range of activities, from open-air soirees to sunbathing. The also appears to be a pool at the center if you want to get your hair wet. At the opposite end, the foredeck is fitted with a helipad that can facilitate comings and goings.
"From the very first sketches, Flame has been perceived with the intention to give up to easy compromises between space and form," the studio adds. "She allows for clean and decisive lines to flow freely from the bow to the stern volume, where the living areas of this yacht are concentrated."
Centrostiledesign quite likes to push the envelope with its superyacht concepts. The Italian studio, which is helmed by noted yacht designer Davide Cipriani, has previously delivered a number of disruptive designs, such as a futuristic electric foiling yacht with the soul of a Formula 1 race car and the agility of a jet.
Click here to see all the photos of the Flame concept.