Welcome to Checking In, a review series in which our editors and contributors rate the best luxury hotels based on a rigorous—and occasionally tongue-in-cheek—10-point system: Each question answered "yes" gets one point. Will room service bring you caviar? Does your suite have its own butler? Does the bathroom have a bidet? Find out below.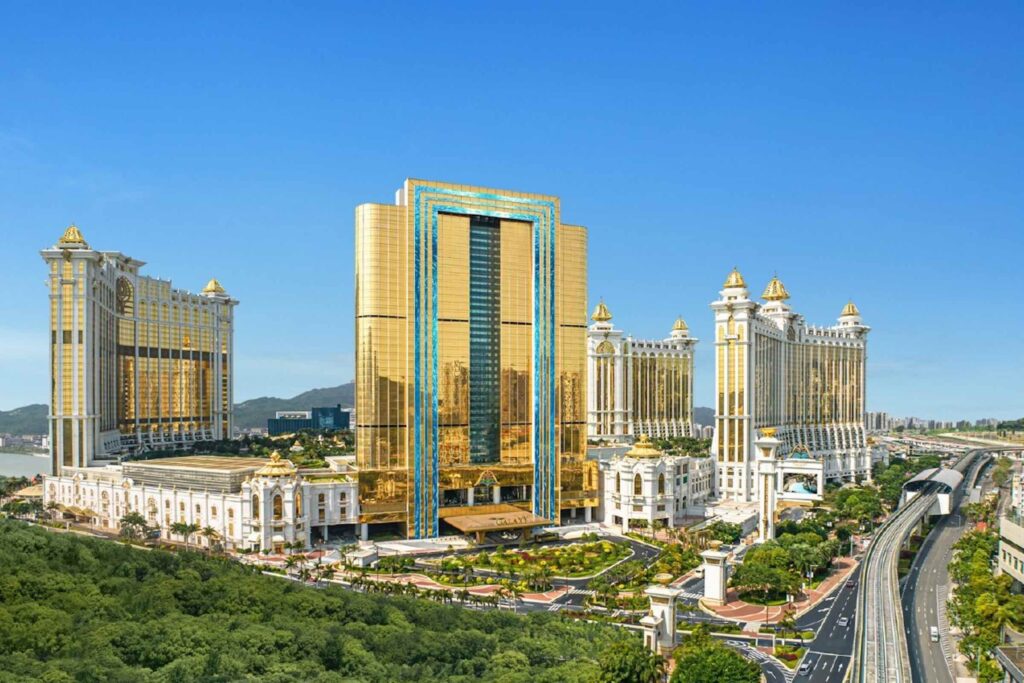 Describe the property in three words: Grand. Personalised. Detail-orientated.
What's the deal? As a part of Raffles Hotels & Resorts' ambitious plan to cement its presence in vital Asian hubs, a brand-new hotel under its aegis has soft-opened in August 2023 at the ever-expanding Galaxy Macau resort estate (which has seven other hospitality brands on its grounds).
Raffles at Galaxy Macau is comprised of two golden towers overlooking Cotai and Taipa. It's also the largest all-suites Raffles hotel in the world, and its most ambitious project to date. Burgundy interiors—the signature colour of this location— are complemented by flooding sunlight, natural greenery, and timeless Italian flair. From the high-ceilinged lobby to the marble fireplaces in the rooms, there's an elegant design mix of classic and contemporary. With its indoor trees, an art collection centred around a "four seasons" theme, and a secret garden, Raffles has created an oasis in the heart of the bustling Galaxy Macau.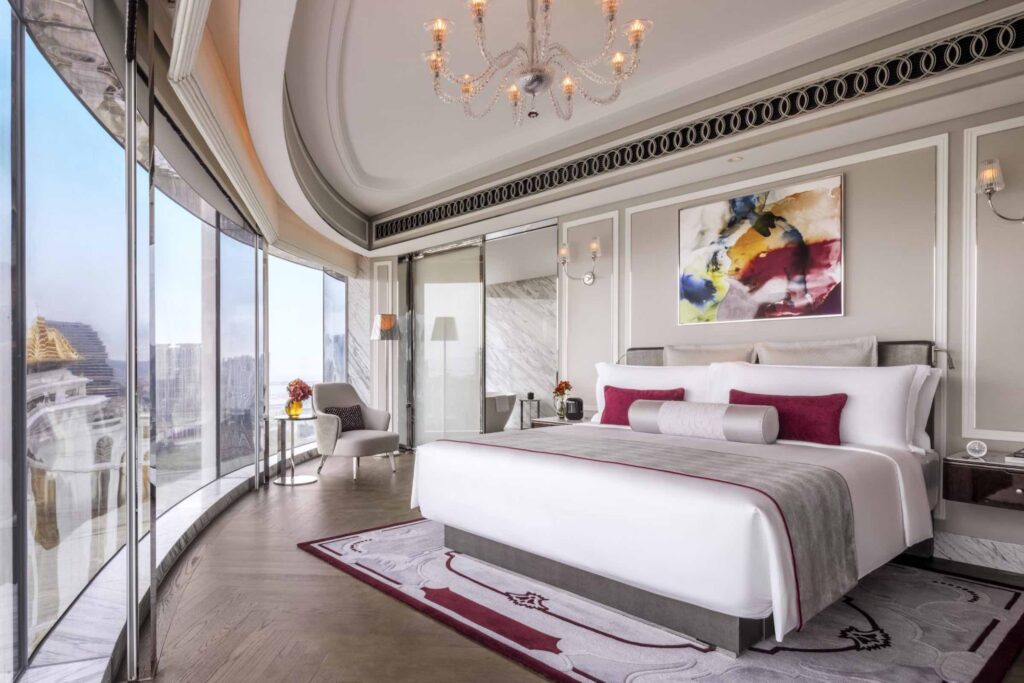 The best room: Certainly, the booked-out Presidential Suite appears to be the most attractive option, but for us, the best of the 450 keys must be the Panoramic Suite. Boasting two rooms and a relaxing lounge in-between, the 118-square-metre space has curved floor-to-ceiling windows running along the outer walls—the best way to take in the spectacular view.
Does the resort have a standout perk? Does an interesting backstory count? According to the brand literature, the lavish design of Raffles at Galaxy Macau is based on the (fictional) story of a 14th-century Italian merchant who desires to fill the spaces of his residence with an enviable collection of Eastern and Western artefacts—that explains the connecting thread of elegant Italian craftsmanship and materials throughout the hotel.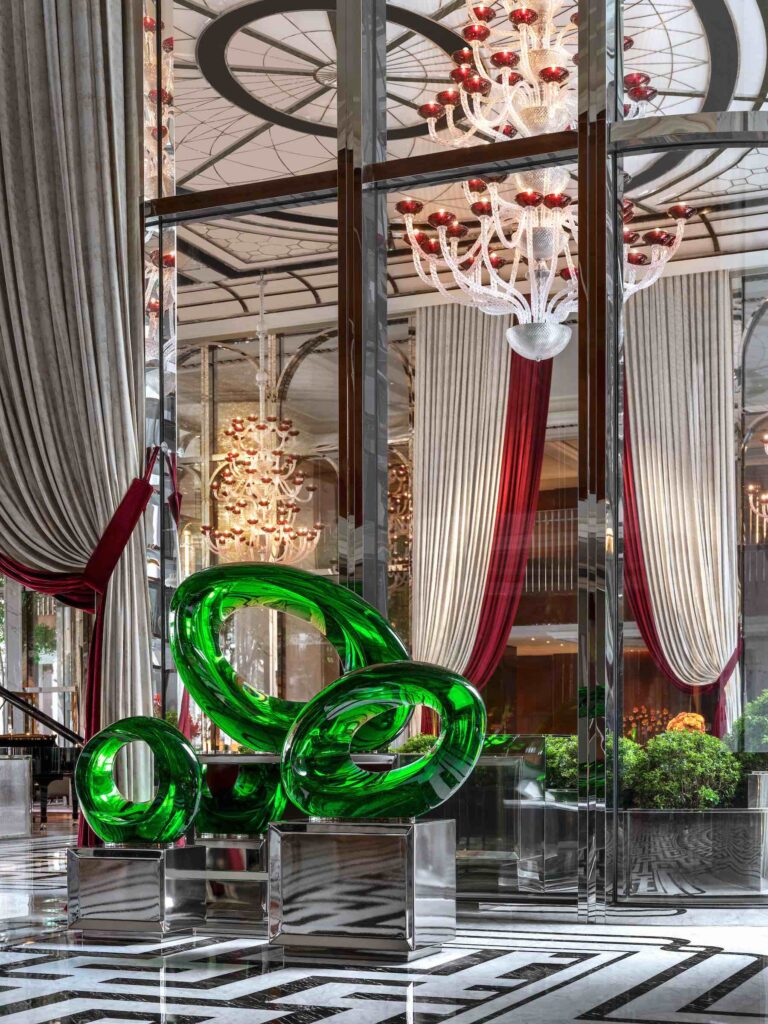 Did they greet you by name at check-in? Yes. In fact, forget about check-in; a butler was waiting for our car to arrive, greeted us by name, and took us straight to our suite—he had our personalised room keys in-hand and took care of all the reception hassle while we settled in.
Was a welcome drink ready and waiting when you arrived? (Bonus point if it wasn't just fruit juice.) Yes. How they timed the arrival of the welcome soup—yes, something new and novel—and served it at the perfect temperature is a mystery and a joyous wonder. Our butler was also ready to have a signature Singapore Sling cocktail prepared for us from the bar cart, or pour us a cup of premium pu'er from the Chinese tea set, if it pleased us, which went beautifully with the personalised Robb Report Hong Kong welcome pastries.
Is there a private butler for every room? Yes and no. A private butler certainly welcomed us on arrival, showed us the ins and outs of the Deluxe Suite in which we stayed, gave us his name multiple times, and came to serve us lunch all within the first few hours. However, he didn't give us a way to directly contact him after his departure, meaning that other equally attentive and switched-on members of the butler team served us when we needed anything.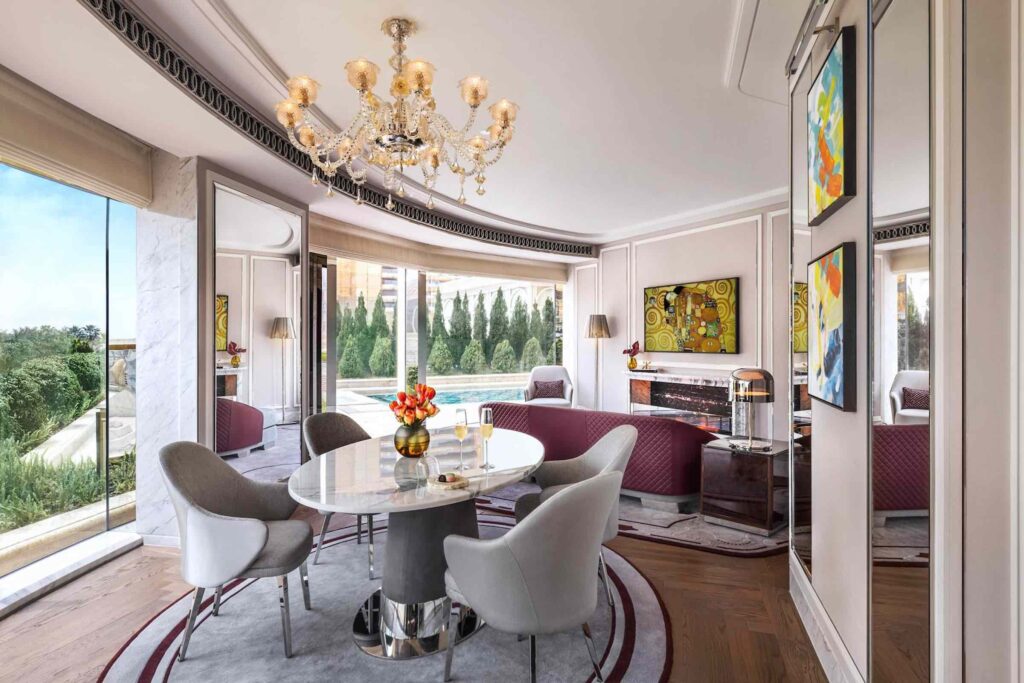 Is the sheet thread count higher than 300? Yes, the custom-made Canasin sheets have a 400 thread count. What's more, our names were embroidered on the pillowcases (and we took those home as souvenirs, as well as the bathrobe, which was similarly personalised. It's an add-on perk and customisation service that Raffles reserves for select guests. And speaking of personalisation, each room key was embossed with our name, like a credit card).
Is there a heated floor in the bathroom? What about a bidet? No; the temperature of the marble bathroom floor is not noticeably warm or cold, but this is Macau, and the climate remains mild for most of the year. Yes to the bidet; the Japanese-style Duravit toilet steals the show with its many lavatory functions—that is, until you turn around and notice the splendid bathtub and smart TV mirror. A lot was going on in the bathrooms, and we loved it.
Are the toiletries full-sized? Yes; the body lotion, shower gel, shampoo, and conditioner were full-sized, from the À L'Aube Des Sens line by Maison Caulières. Other toiletries were travel-sized, and the wooden comb, toothbrush, and razor were nice eco-friendly touches.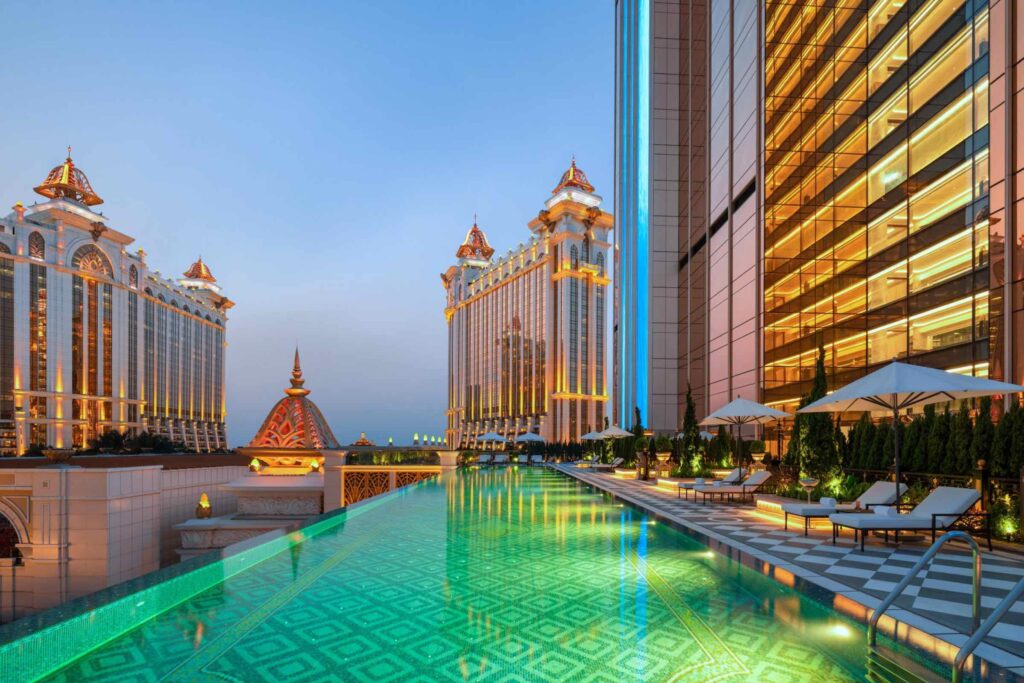 Is there a private pool for the room's exclusive use? Yes, for some; the Raffles Signature Pool Suite and the Terrace Pool Suite come with their own private heated pools and hot tubs. A divine, 40-metre-long infinity pool complete with the poolside Belvedere venue serving refreshments welcomes everyone else staying at the hotel. Staff in marinières striped shirts will make sure you're all set with a "pool kit"—two towels, sunscreen, water, and apples.
Is there caviar on the room service menu? If so, what kind? No. Ossetra and Kristal caviar generously dressed the plates served on the Raffles Lounge & Terrace dinner menu, but no sign of them on the in-room dining selection. However, the in-room dim sum was delightful.
Do you want to spend your Friday night in the lobby bar? Yes, for two reasons. Firstly, the Raffles Lounge & Terrace has a 15-metre-high chandelier made of no fewer than 523,000 pieces of crystal, setting the majestic ambience. Secondly, the legendary Singapore Sling—invented by mixologist Ngiam Tong Boon at Raffles Singapore—is best served fresh.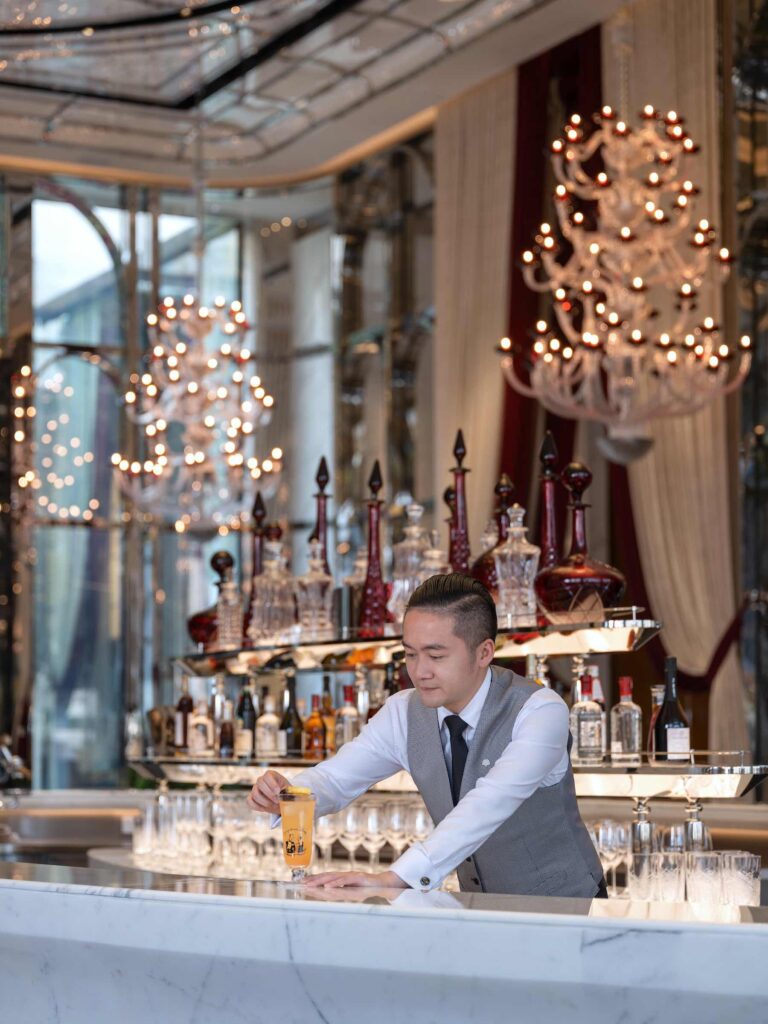 Would you buy the hotel if you could? Yes. It would be quite the investment as this ultra-luxurious hotel is the eighth in the Galaxy Macau ensemble, but seeing as there's still more to come—a kappō restaurant helmed by Masaaki Miyakawa and a new take on Singapore's Long Bar designed by Joyce Wang are in the works—we think it's a long-term win.
Total: 9
What Our Score Means:
1–3: Fire your travel agent if they suggest you stay here.
4–6: Solid if you're in a pinch—but only if you're in a pinch.
7–8: Very good. We'd stay here again and recommend it without qualms.
9–10: Forget booking a week. When can we move in permanently?
All images courtesy of Raffles at Galaxy Macau.